With more and more parents being away from their homes these days, whether for jobs, grocery shopping, or fulfilling other commitments, kids return from schools to an empty home.
Parents have no choice but to give house keys to them, but it comes with a huge responsibility. Children can easily misplace keys, making it essential for parents to teach them "key responsibility." This refers to being cautious with handling and carrying keys.
Here are some ways to lessen your child's chances of losing their keys.
Attach keys to their backpack
Kids treat their backpacks as their prized possessions and store every item imaginable inside them.
So when your child forgets where the keys are, chances are they'll turn to their backpack. This is a good excuse to attach keys to the bag's front. Don't forget to tell your child that they should not remove these keys from their backpack at any cost.
However, two issues might arise with this technique. The first is that the child will not know how to unlock doors without removing the keys from their backpack. You can solve this problem by attaching keys to a retractable cord connected to a keychain.
The second issue is that their backpack might get stolen or lost. Since it will have your house keys attached to them, your house's security will be at risk. There isn't a practical solution available for this. It's entirely your choice if you wish to keep the keys attached to your child's backpack or remove them to eliminate the safety risk.
Give them a lanyard
A second technique can eliminate the risk mentioned above: using a lanyard to hold keys. However, your child will have to wear this lanyard around their neck at all times when they're outside the house.
Have a key organizer in your house where your child can hang the lanyard each night and wear it again the following day. However, the lanyard technique is only applicable to kids in their early years. As soon as the child grows up, they'll feel embarrassed to wear a lanyard outside!
Attach a large item to them
Most children lose keys because they're too small. They might fall off, get buried in a corner, or become concealed by another object and out of the child's sight.
The best solution is to attach a large object to it as a book, ball, a ping pong paddle, a stuffed animal, or any of your child's favorite toys. This object will act as an identifier of your house keys. For example, your child will remember that the keys are attached to their pink teddy bear.
Hide your spare keys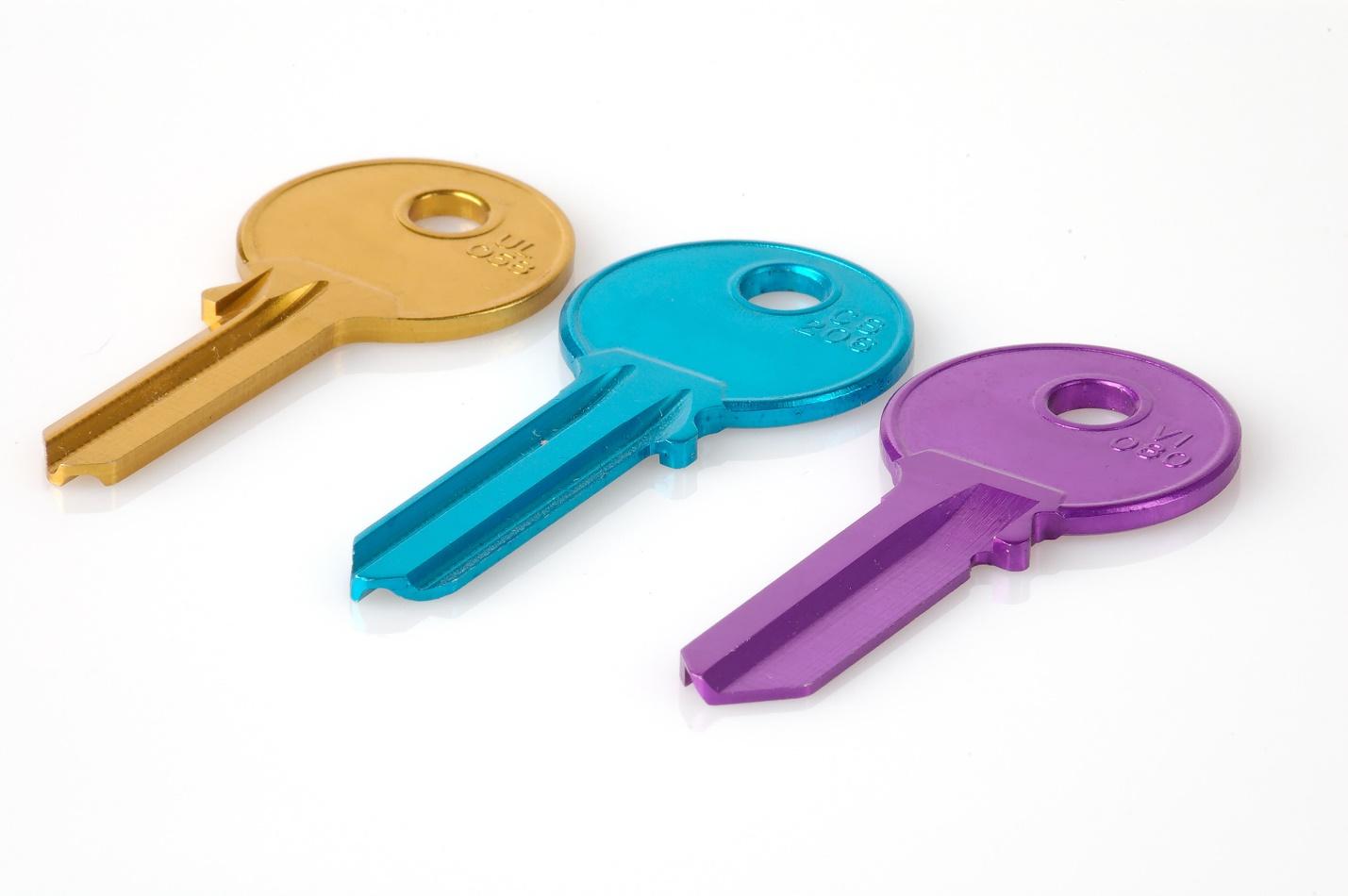 Filename: three-keys
Alt text: three assorted keys
Keeping spare keys is a smart way to ensure that backup is available if your child ever misplaces keys. But it's a double-edged sword. If your child knows that spare keys are available on the go, they'll become irresponsible with their original set of keys.
It's best to keep spare keys away from your child's sight. Better yet, don't tell them that extra keys are available. This will teach them to protect their set at all costs.
There's another benefit to this. Keeping your spare keys tucked away ensures that any strangers entering the house will not notice, or worse, steal them!
Use a key rack
Having a collective place for keys like a catch-all or key rack makes it easy to keep track of all keys. All family members, including your child, can keep their respective keys in this place and grab them when going out.
This technique can be used with older children in place of a lanyard. In addition, it builds a habit in your children to keep their keys at the end of the day and pick them up when going outside, reducing chances of lockout.
Provide consequences
You can take all the precautions in the world, and your child might still lose their key!
That's why it's essential to be a little rigid with them. Let them know that they'll have to face its consequences if they lose their keys. For example, they'll have to pay money from their savings or give up some fun privileges.
At the same time, remind them that it's okay to make mistakes. What's more important is being more responsible the next time.
Make keys noticeable
Another way to make keys easy to identify is by attaching them to something colorful. It doesn't have to be a large object. For instance, it can be a keychain with bright patterns or a piece of jewelry.
The purpose is to make the keys easily noticeable, making them harder to misplace.
A better idea is to provide your child a keychain with their name or initials carved on it. So if your child ever loses keys in their school, "the lost and found department" will quickly identify the owner.
Buy No Guilt life Keychains
Filename: No Guilt Life keychain
Alt text: George Washington Middle Finger keychain Funny
What's the best way to make keys identifiable? Attaching a keychain that has George Washington's face on it!
Yep, this keychain is as unique as it sounds. Not everyone carries a George Washington collectible keychain with them.
Secondly, your child will keep it safe at all costs, given how unique it looks! So if you want to make your child hang onto their keys, Guilt Free imprint keychains are the best! Buy them a No Guilt life hat and George Washington tumbler as an add-on.
About the author
George S. is a patriotic American who loves writing about parenting related topics. He takes pride in sharing his name with the late President George Washington!